Mr Liaqat Chowoo
Consultant Urological Surgeon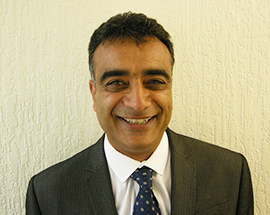 Qualifications
MBBS MS DMB Urol FRCS FEBU
Main NHS Base
Bedford Hospital NHS TRust
Training & Background
Mr Liaqat Chowoo has been a Consultant Urological Surgeon in the NHS since January 2004. He has a track record of 10 years with audited clinical work presented and published nationally and internationally. He has received 3 Clinical Excellence Awards in these consecutive years.
He qualified as a Doctor in 1987 and as a Surgeon in 1992. He has extensive experience in ballistic trauma and achieved FRCS from the Royal College of Surgeons of Edinburgh and FEBU (Fellow of European Board of Urology) in 2003. He has achieved recognition on the Specialist Register for Urology (CSST) in 2005. He worked as a Deputy Programme Director for Urology in Yorkshire Deanery from 2009 until 2012 and has national representation in renal research for the NIHR.
His main interests are male and female incontinence, reconstruction, neurology and urodynamics, erectile dysfunction, male factor infertility, benign and malignant conditions of the urogenital system as well as general urology.
Liaqat completed most of his general surgery and urology training in India before moving to London in 2000. He spent a year at the Institute of Urology in London and worked as a Senior Clinical Fellow in associated hospitals for 3 years before being appointed as a Consultant Urological Surgeon in 2004. He has been offering specialist services in general urology and incontinence and reconstruction since.
Apart from his experience in general urology, Liaqat can offer specialised advice in diagnosis and management of all benign and malignant urological diseases.
He enjoys skiing and travelling.