Professor Sandip Hindocha
Consultant Plastic, Reconstructive, Aesthetic, Laser and Hand Surgeon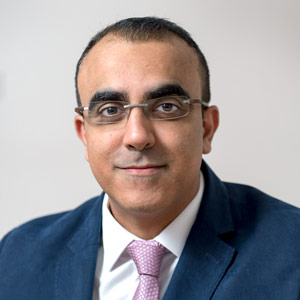 Qualifications
MD, MPhil, MBChB, MRCS, BTEC(laser), MFFLM, FRCS(plast)
Main NHS Base
Bedford Hospital NHS Trust
Member Of
British Association of Plastic, Reconstructive & Aesthetic Surgeons
British Association of Aesthetic Plastic Surgeons
American Society of Plastic Surgeons
British Medical Laser Association
British Society for Surgery of the Hand
Royal College of Surgeons of England
Faculty of Forensic & Legal Medicine
Scope of Practice
Breast: Breast augmentation, reduction, uplift, reconstruction
Body: Liposuction, abdominoplasty (tummy tuck), arm lift, thigh lift, buttock lift, male cosmetic surgery
Cosmetic laser skin treatments including resurfacing and reduction of fine lines
Dupuytren's disease surgery including treatment with collagenase
Face: Facelift, eyelid lift, brow lift, ear surgery, rhinoplasty (nose job)
Ganglion excision
Laser treatment for rhinophyma (bulbous nose)
Nerve entrapment surgery including carpal tunnel and cubital tunnel
Non-surgical: Anti-wrinkle treatment, fillers, chemical peels
Pigment reduction
Medical laser treatment including vascular malformations (Port Wine stains, haemangiomas)
Reconstruction of limbs following trauma
Scarring - surgical and non-surgical treatment
Surgery for osteoarthritis including steroid injections, joint replacements
Surgery for rheumatoid arthritis
Reports for plastic, cosmetic & hand surgery surgery
Reports for forensic medicine
Areas of Expertise
Plastic, Reconstructive and Cosmetic Surgery
Skin: All aspects of skin cancer treatment – diagnosis, surgery and reconstruction anywhere
All aspects of emergency hand surgery including tendon and nerve damage
Training & Background
Mr Hindocha is a UK trained fully accredited plastic, reconstructive, aesthetic, laser and hand surgeon and carries out a wide range of surgical & non-surgical procedures. Mr Hindocha appears on the specialist register of the GMC. Mr Hindocha runs a private practice in Bedford and is the clinical lead for plastic surgery at Bedford Hospital.
Mr Hindocha qualified from the University of Manchester in 2005 and his training has taken place in Manchester, Liverpool, USA (Dallas) and Canada (Toronto). In addition to his plastic surgery training he has completed a recognised cosmetic fellowship program.
Mr Hindocha is highly academic within the field of plastic, reconstructive, aesthetic, laser and hand surgery. He has published several book chapters, over 100 peer reviewed scientific articles and presented his work at a national & international level. Mr Hindocha has developed and runs an international plastic surgery course at The University of Mauritius which has been acclaimed a success via the national press & TV in East Africa. Mr Hindocha has won several academic prizes for his work in plastic surgery including the prestigious Society of Academic Research Surgeons award in 2009.
Mr Hindocha is a member of the British Association of Plastic & Reconstructive Surgeons (BAPRAS); the British Association of Surgery of the Hand (BSSH); the British Association of Aesthetic Plastic Surgeons (BAAPS); the British Medical Laser Association (BMLA); the American Society of Plastic Surgeons; the Faculty of Forensic & Legal Medicine (FFLM) to enhance his expanding medical legal practice.