A tummy tuck (abdominoplasty) is an operation to remove excess fat and skin from your abdomen (tummy) and to tighten your abdominal muscles. The results of a tummy tuck can be long lasting. You can help this by keeping to a healthy weight after your surgery.
There are lots of reasons why people have this type of surgery, including having weaker abdominal muscles after pregnancy or having previously lost a lot of weight.
You might want to have a tummy tuck because:
you have loose skin after major weight loss
your abdominal skin and muscles might have become slack after pregnancy
you have abdominal scarring from earlier surgery or injury
it's part of another operation that you need, such as hernia repair
Tummy tuck surgery removes excess fat and skin and can tighten your abdominal muscles to improve the shape of your abdomen. Some stretch marks from pregnancy may be removed and others made less noticeable.
Tummy tuck surgery isn't a treatment to help you lose or control your weight and won't stop you from gaining weight in the future either.
What happens in tummy tuck surgery?
The surgeon will make a cut in your abdomen from hip to hip along your pubic area (in women this is also called your bikini line). They'll make another cut around your belly button to free it from the surrounding skin. Then the repair will tighten your abdominal muscles and remove excess fat and skin. The remaining skin is pulled down and a new hole is made for your belly button so that it is in the correct position.
You'll have a scar around your belly button and a long curved scar on your abdomen above your pubic area. Because of the normal pattern of pubic hair, the scar is generally higher in men than in women. You can usually hide these scars with your underwear or with swimwear such as a bikini or shorts, but this may not always be possible.
The picture below shows an example of the position of the scars that you may have after a tummy tuck. This will differ from person to person and on the type of tummy tuck you have. Your surgeon will explain the scars you're likely to have.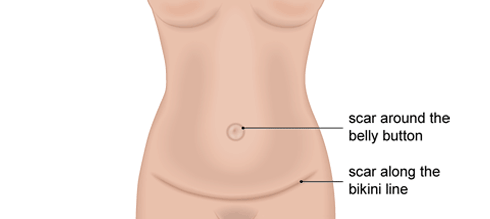 What happens after tummy tuck surgery?
You will need to spend a night in the hospital to recover as well as take a fortnight off work to give your body a chance to heal. It is important not to over-excert yourself physically during this time and avoid heavy lifting. You will experience swelling and soreness and will need to rest and recover.
The hospital will supply you with a compression garment which you must wear according to instructions to preserve your new shape.
Mini Tummy Tuck 
How is a mini tummy tuck different from a full tummy tuck?
The mini tummy tuck is a slightly different procedure but with a similar aim in mind. In this case, the excess skin is removed only from below the navel – from the lower abdomen. The belly button will not have to be repositioned in order to complete this procedure.
Am I better suited to a mini or a full tummy tuck?
The ideal candidate for a mini tummy tuck is one who only needs skin removed from the lower part of their abdomen. Good physical health is also required and a candidate who is comfortable with their current weight – neither mini tummy tucks or full tummy tucks are appropriate for someone looking to lose weight.